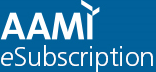 Copyright Notice
Association for the Advancement of Medical Instrumentation (AAMI)
901 N. Glebe Road, Suite 300, Arlington, VA 22203
Telephone: +1 703-525-4890; Fax: +1 703-525-1424
All rights reserved.
No portion of AAMI eSubscription may be reproduced in any form, electronic or otherwise, for any purpose other than personal use, without prior written permission of the Association for the Advancement of Medical Instrumentation (AAMI). To the extent that AAMI is not the copyright owner of some portion of AAMI eSubscription, AAMI has received permission to include such material in AAMI eSubscription. Such material belongs to the original copyright owner, and may not be used for any purpose other than personal use without the prior permission of such owner.
The links on AAMI eSubscription are provided for the use and convenience of AAMI Members and visitors to the site. AAMI has no interest in, responsibility for, or control over any linked site. AAMI makes no promises or warranties of any kind, express or implied, including those of merchantability and fitness for a particular purpose, as to the content of a linked site. In no event shall AAMI be liable for any damages resulting from use of these links even if AAMI has been informed of the possibility thereof. AAMI does not endorse, warrant or guarantee the products or services described or offered at these other Internet sites.